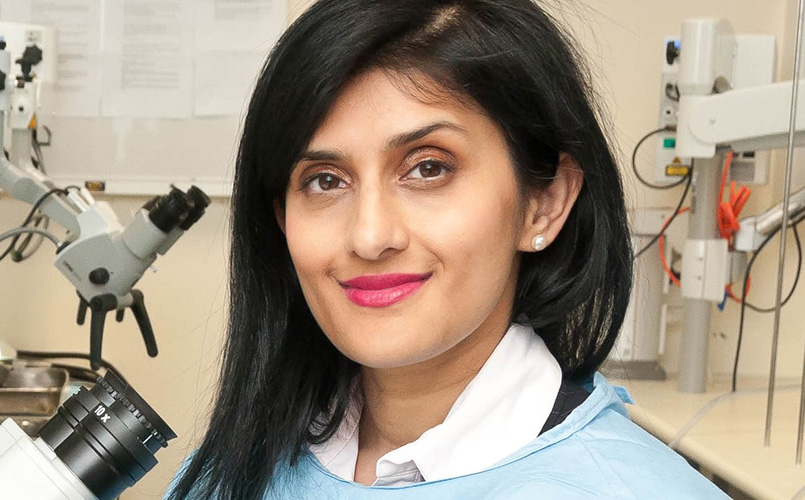 Nov
20
2015
Original article published in Health Matters October 2015 available here.
Payal Mukherjee knows there will come a day when future generations of surgeons will have female role models in prominent leadership positions.
And as an executive member of the Royal Australasian College of Surgeons NSW State Committee, and Royal Prince Alfred Hospital's research lead for ear nose and throat surgery, she's working hard to make it happen.
"There is still a lot to be achieved, but we are starting to really focus on the role of women in surgery as a group and that means we have already come a long way," she said.
"The college's NSW committee currently has its first female chair and it is extremely proactive in advocacy in areas of gender equality. I'm confident
that my four-year-old daughter will enjoy greater opportunities to achieve leadership positions within surgery than those who came before her."
Dr Mukherjee is also involved in the Women in Surgery Think Tank, launched by RPA's Institute of Academic Surgery to start a discussion regarding how RPA can enhance and support the experience of surgical trainees and consultants. She was recently awarded a scholarship in advanced leadership training by Women in Leadership Australia so women in health can be better equipped with vital skills that enable
them to be better leaders.
Dr Mukherjee specialises in ear surgery, lateral skull base surgery and Cochlear implantation. One of her many achievements is a project that could
revolutionise the way surgeons plan complex procedures and explain them to patients.
It uses 3D printing and augmented reality technology on smartphones to create interactive models to visualise the part of the body being operated
on, and was granted $25,000 in the District's most recent Pitch challenge.
"I'm researching the benefits of this technology in improving patient safety by examining surgical outcomes, and surveying patient comfort and
satisfaction with the way they are treated," she said.
"I believe that the more the patient understands about the procedure they are about to undergo, the more engaged and compliant they will be
about their care and this could really help improve their outcomes."
Dr Mukherjee is an executive on the Meniere's Research Fund, dedicated to understanding the disease that causes debilitating disruption to hearing and balance and finding new treatments. She runs the fund with a small group of colleagues who volunteer their time to apply for grants and raise funds to support further research.